By Mica Walsh, 40:20 Vision Ambassador
Today I'm sharing an interview with Nika Stewart, co-founder and CEO of GhostTweeting, a social media management agency in New Jersey. Nika spoke with me about her experience as an entrepreneur and how she learned to design a life that has given her freedom and flexibility.
Where I Started 
I went to college at Rutgers, New Jersey, where I majored in Psychology. During my senior year, I saw all my friends going to career fairs, sending out resumes, and trying to find the right company to hire them. Wow – that seemed scary to me! I thought they were all so brave, relying on other people to make decisions on what work they could do.
Although my mom had always told me that the best thing to do was get a "steady 9-5 job with benefits," I just couldn't do it. I decided I didn't need anyone's permission – I was going to start my own business and give myself the job I wanted. Strangely, my friends thought I was the one being brave.
Throughout college I had enjoyed working with an event planning company, so I decided that my first venture would be in that field.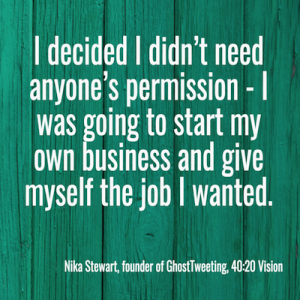 Overcoming My First Challenge
My biggest challenge as a party planner was having the confidence to get large clients to hire me. I had a lot of small accounts, but I really wanted the big ones. This was around the time when the Teenage Mutant Ninja Turtles were popular. I saw an opportunity to follow that trend and did a Teenage Mutant Ninja Turtles kids' party. That took off, and we turned into a Children's Party Entertainment company. From then on, my business grew to about 10 – 15 parties each week.
What I Learned from My First Business
The biggest thing I learned is to systemize everything. While the entertainment at all my parties had a rhythm and a system, I could not get organized at the office. I needed to systemize, not just for me, but for my team members. Thank goodness I learned this for future businesses!
Having Freedom and Flexibility
I always thought that having my own business would mean having freedom and flexibility. But after my daughter was born (and flexibility was more important than ever!), I realized that I didn't have that. I had to change everything so that my business model could allow me to work from my laptop.
I spent years marketing my own businesses and was good at marketing myself. Other people were always asking my advice on how to do it. So I started teaching online courses in marketing. I learned how to do tele-seminars and webinars after taking an online course with Ali Brown. After teaching online marketing, I got into social media and co-founded GhostTweeting. Now, I have freedom and flexibility. It's about designing the kind of life that you want.
Lesson learned….if you are ever at a crossroads, think about the things people ask you for help with…that could be your superpower!
Working in Social Media
To work in social media, you need to be a good business writer. Great grammar is important. You have to know the the fundamentals …like the difference between your and you're! And you need to understand that social media for business is very different than social media for personal use.
What I Know Now About Starting Your Own Business
The thing no one wants to hear is that you have to stick with it, even if you don't get immediate results. You don't go on a diet and lose 40 pounds overnight. It takes consistency, but it will come.
Find someone who has done what you want to do. Hire them as a coach or ask them to be your mentor. Entrepreneurs are often helpful. There are mastermind groups you can join, too.
I could not have run my business successfully without a mastermind group. It is essential. Some benefits: having other minds on your business, being able to talk out challenges until you find a solution, getting support, networking, resources that you wouldn't know about, real entrepreneurial friends, and knowing you aren't alone (running your own business can be lonely).
I have found that the road to success is actually very simple. All you have to do is work your butt off every day and never quit. (And don't forget to enjoy the ride!)
Follow Nika here:
Instagram: https://www.instagram.com/ghosttweeting/
Twitter: http://twitter.com/nikastewart
Facebook: http://facebook.com/ghosttweeting


on Twitter


on Facebook


on Google+